Preps: Greenhills Elan Hotel
Church: Sanctuario de Santo Cristo
Reception: Oasis
The moment I stepped in Eynna's room at her hotel, she gave us a very lively greeting. That was a good sign for a great shoot. But God unfolds a lot of blessings and as she was almost done with her make-up, she was ready doing lots of funny faces. That's another sign that this will be a really fun wedding.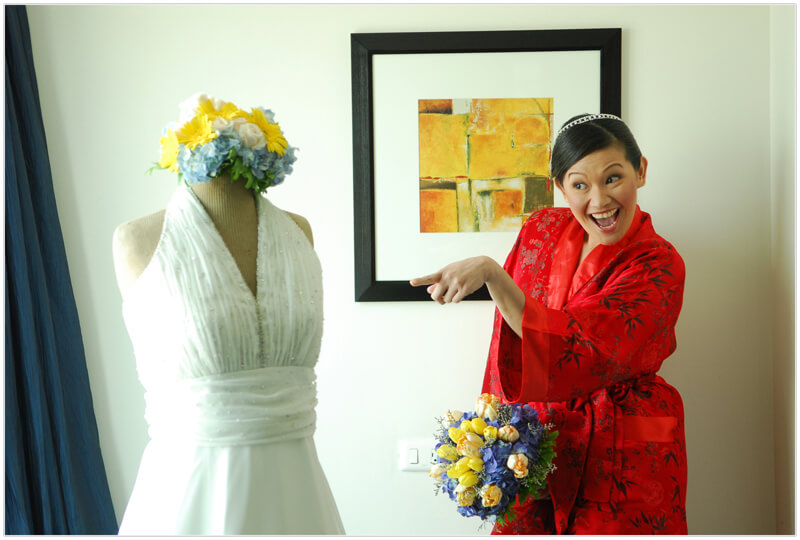 You can check how fun Eynna was to shoot because she was really up for anything and the mood during preps was very light. I remember how God helped us find a way to make that manuequin stand with her dress on it. (FYI, that stand was wearing orange tie-dye and was standing 3 ft tall before we fixed it. Eynna is about 5 ft 8-9 in?). With a great team and God on our side, It was really a success.
I just love these shots. =P
Carlo, on the other hand, was doing great as well. I loved his room because it was so big and it gave me more ideas for creative shooting. Carlo, you look really good here.. =P
Prepping up for the ceremony…
Eynna's veil and ring shots…
Eynna's mom and dad…
The weather was so perfect God gave us blue skies and a bright sun. Aquinas church was such cool venue for in-betweens.
Sunny love.. one of my fave shots that day…
At Oasis for another layout…
During the couple's first dance, the fan blew bubbles around the couple and created a whirlwind effect… Love it.
Everything was such a blessing for me including Carlo and Eynna. I thank God for letting me be a part of this wonderful wedding. As our tagline goes, God makes beautiful weddings, we simply capture them…
God Bless Carlo & Eynna! Have a wonderful relationship. Sorry for the late post.